Home » Half Day Tour » Tegalalalng Half Day Tour
Tegalalalng Half Day Tour
About Trip
Destination :
Goa Gajang Temple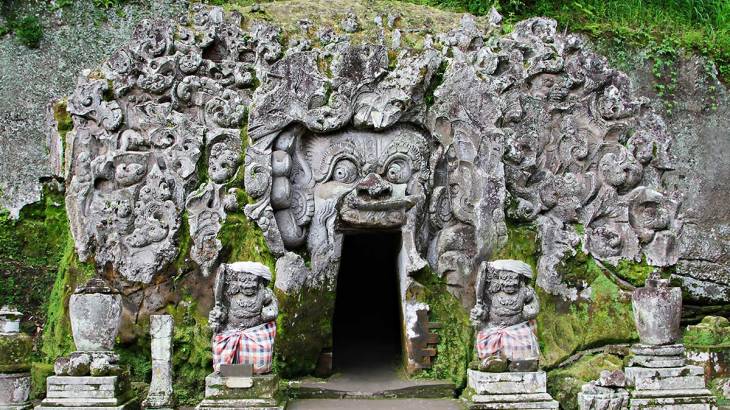 Goa Gajah's name is slightly misleading, lending the impression that it's a gigantic dwelling full of elephants. Nevertheless, Goa Gajah 'Elephant Cave' is an archaeological site of significant historical value that makes it a special place to visit. Located on the cool western edge of Bedulu Village, six kilometres out of central Ubud, you do not need more than an hour to descend to its relic-filled courtyard and view the rock-wall carvings, a central meditational cave, bathing pools and fountains
Bali ATV Quard Bike Adventure
ATV Ride is an activity that uses four-wheeled motorbikes, usually used for agriculture now for recreation. The wheels are specifically modified for off-road environments, with a 250 cc engine capacity or a 350 cc engine. It is suitable for wet and off road terrain, reliable controls for maneuvering so ATV Ride is a tourist activity to test adrenaline, if you follow instructions and remain careful, ATV rides are guaranteed to be an unforgettable and exciting trip.
Tegalalang Rice Terrace
Tegallalang Rice Terraces in Ubud is famous for its beautiful scenes of rice paddies involving the subak (traditional Balinese cooperative irrigation system), which according to history, was passed down by a revered holy man named Rsi Markandeya in the eighth century. Tegallalang forms the three most splendid terraced landscapes in Ubud's shared region, with the others being in the villages of Pejeng and Campuhan.
Include :
Petrol
Parking Fee
Bottle of Natural Water for One Person
Hotel Pick Up : Ubud, Kuta, Denpasar, Legian, Seminyak, Canggu, Jimbaran, Sanur, Padang bay.
For the price range of 35 USD to 50 USD depending on the number of people and what car will be used for the tour
Maximum 5 Person If do you have more than 5 Person, Please Contac us on Whatsapp or Email
Note : In addition to the destinations that we provide in the tour , you can also request or custom your travel destinations while in Bali
Booking Form
Contact Us ?

Book Now!
Get Bali Tour Prices at affordable rates. Our company Subawa Bali Driver provide the best facilities for Bali Tour passengers. Enjoy fun travel services from Subawa Bali Driver.