Home » Full Day Tour » Kintamani Full Day Tour
Kintamani Full Day Tour
About Trip
Destination :
Kintamani Volcano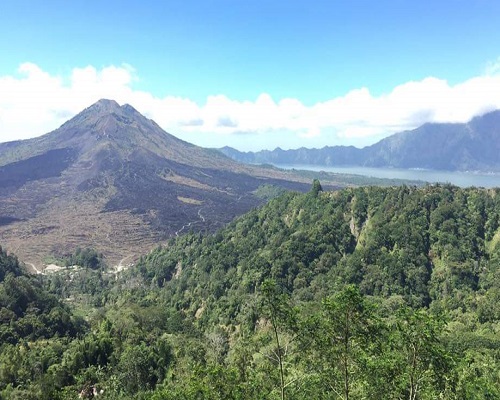 Kintamani Village is the object of mountain tourism is very unique and stunning, with cool air condition in the daytime and cold at night. Kintamani is 1500 meters high, the village of Kintamani his a cool, damp climate suited to growing oranges and passion fruit and on market day, which falls every third day, the main street becomes a bustling chaos of vendors, some of whom have traveled from far away. Tourism Object is located in the area is located in the village of Batur. We can watch stunning natural scenery of Penelokan, a combination of Mount Batur and the expanse of black rock with Lake Batur and on a blue caldera.
Besakih Temple
Besakih Temple, known as Bali's 'Mother Temple' for over 1,000 years, sits 1,000 metres high on the southwestern slopes of Mount Agung. Besakih is an artistic and unique complex that comprises at least 86 temples which include the main Pura Penataran Agung (the Great Temple of State) and 18 others. Besakih is the biggest and holiest of the island's temples and is surrounded by breathtaking and scenic rice paddies, hills, mountains, streams, and more.
Coffe Plantation
Coffee Plantation or known with popular name Bali Agrotourism, is a place to see various Tropical plantations such as coffee robusta, pineapple, Balinese snake fruite(salak), plain Balinese potatoes, fruit stars, cacao, jack fruit, durian tree and many more, experience to see how to make Balinese coffee in very traditional ways, and taste the fresh of Balinese coffee or ginger tea with green view river valley and also They sell variety of theirs original Balinese coffee products, herb oil and etc and see the civet cat the most expensive coffee maker, wellknown as Luwak.
Wood Carving Mas Village
Bali Mas Village is one of villages in Bali fundamentally identified as an artistic countryside by focusing in artistic of wood carving. Mas Village is located in Ubud sub district and Gianyar Regency, east part of Bali. It owns the typical style of wood carving art by placing forward the distinguish synergy the humanism and naturalism
Include :
Petrol
Parking Fee
Bottle of Natural Water for One Person
Hotel Pick Up : Ubud, Kuta, Denpasar, Legian, Seminyak, Canggu, Jimbaran, Sanur, Padang bay.
For the price range of 50 USD to 70 USD depending on the number of people and what car will be used for the tour
Maximum 5 Person If do you have more than 5 Person, Please Contac us on Whatsapp or Email
Note : In addition to the destinations that we provide in the tour , you can also request or custom your travel destinations while in Bali
Booking Form
Contact Us ?

Book Now!
Get Bali Tour Prices at affordable rates. Our company Subawa Bali Driver provide the best facilities for Bali Tour passengers. Enjoy fun travel services from Subawa Bali Driver.