Home » 2 Days Tour » Bali Two Days Tour 6
Bali Two Days Tour 6
About Trip
Destination :
Day 1
Watersport
Bali Water Sports Tour is Bali Activities Tour Package which offer Comprehensive range of marine activities with great challenges, exciting and designed full of fun in Bali islands. It is offers variety of water activities from motorizes until non-motorize one and bring you to unforgettable experience to enjoy fun activities in the beach or in the ocean.
Uluwatu Temple
Uluwatu Temple is one of Bali's nine key directional temples, though a small temple was claimed to have existed beforehand, the structure was significantly expanded by a Javanese sage, Empu Kuturan in the 11th Century. Another sage from East Java, Dang Hyang Nirartha is credited for constructing the padmasana shrines and is claimed to have attained Moksha.
Tanah Lot Temple
Tanah Lot Temple on a rocky island just off the southwest coast of Bali. One of Bali's most sacred sea temples, Tanah Lot is dedicated to the guardian spirits of the sea. The temple itself is said to be guarded from evil by the sea snakes that inhabit the caves below. The temple itself is not accessible to visitors, but magnificent views can be had from a variety of points nearby.
Day 2
Bali Bird Park
Bali Bird Park Tour is a Bali Activities Tour to enjoy experience visiting the best Bird Park in Bali islands with many kinds collection of exotic, beautiful and Fantastic birds from around the wond, especialy from africa. Feel this excitement get closed with Birds from many kind species and make this holiday is memorable one for you and family. Encompassing two hectares of botanical landscape, the park provides sanctuary to almost 1000 birds of 250 different species.
Goa Gajah Temple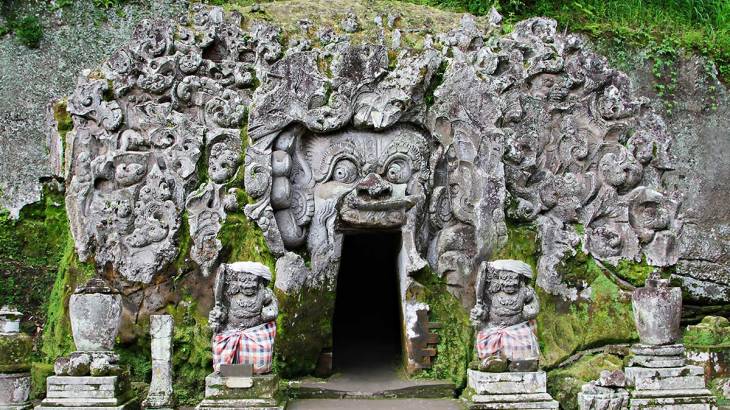 Goa Gajah's name is slightly misleading, lending the impression that it's a gigantic dwelling full of elephants. Nevertheless, Goa Gajah 'Elephant Cave' is an archaeological site of significant historical value that makes it a special place to visit. Located on the cool western edge of Bedulu Village, six kilometres out of central Ubud, you do not need more than an hour to descend to its relic-filled courtyard and view the rock-wall carvings, a central meditational cave, bathing pools and fountains.
Tegenungan Waterfall
Tegenungan Waterfall is one for nature lovers who happen to be staying in Ubud or have neighbouring Sukawati among their tour itineraries. The falls are conveniently located halfway between Ubud and Bali's provincial capital of Denpasar, and is considered the closest natural attraction of its kind that you can reach within only a half-hour transfer southeast from Ubud town. Getting to the falls is a pleasant drive down paved village roads lined with stretches of green rice fields on both sides.
Include :
Petrol
Parking Fee
Bottle of Natural Water for One Person
Hotel Pick Up : Ubud, Kuta, Denpasar, Legian, Seminyak, Canggu, Jimbaran, Sanur, Padang bay.
Price : 110 USD - 150 USD for 2 Days
Maximum 5 Person If do you have more than 5 Person, Please Contac us on Whatsapp or Email
Note : In addition to the destinations that we provide in the tour , you can also request or custom your travel destinations while in Bali
Booking Form
Contact Us ?

Book Now!
Get Bali Tour Prices at affordable rates. Our company Subawa Bali Driver provide the best facilities for Bali Tour passengers. Enjoy fun travel services from Subawa Bali Driver.