Home » 2 Days Tour » Bali Two Days Tour 2
Bali Two Days Tour 2
About Trip
Destination :

Day 1
Bali Rafting
Bali Rafting Tour is a Bali Activities / Adventure Tour Packages to enjoy wide range of white water rafting adventure in the paradise island of Bali.
Tegalalang Rice Terrace
Tegallalang Rice Terraces in Ubud is famous for its beautiful scenes of rice paddies involving the subak (traditional Balinese cooperative irrigation system), which according to history, was passed down by a revered holy man named Rsi Markandeya in the eighth century. Tegallalang forms the three most splendid terraced landscapes in Ubud's shared region, with the others being in the villages of Pejeng and Campuhan.
Batuan temple
Batuan Temple, referred to locally as 'Pura Puseh lan Pura Desa Adat Batuan', is a focal landmark in the namesake village of Batuan, well-known for its traditional Balinese arts and paintings. Within only a 10km transfer south from Ubud central, the site features a grand complex of shrines laid out within its 0.65Ha complex. Well preserved sandstone bas motifs and well-preserved traditional Balinese temple architecture are its main draws.
Day 2
Butterfly Park
Bali Butterfly Park Tour is Bali Activities Tour package by provide journey visiting a park with largest collection of butterfly from all the part and to see hundred of butterflies was released every day in the park. Enjoy this trip with professional Balinese tours driver by perform the best services for your convenience. Taman Kupu-Kupu Bali or Bali Butterfly Park is a butterfly and insect conservation facility which exhibits a wide range of specimens through its park grounds of approximately 3,000sqm located in the village of Wanasari, 6.5km north of the Tabanan regency's capital and 30km northwest of Denpasar. The park claims to be the largest of its kind in Asia. The butterfly park is a convenient stopover on excursions to the island's northern region via Tabanan. Here, visiting families will experience an educational and inspiring tour to see hundreds of butterflies from the 15 known species that thrive in Indonesia's tropics, as well as various other insects and arachnids in extensive and informative displays.Besides the many live specimens that are bred at the park, there are also collections of dried butterfly and insect specimens (butterflies have varying but naturally short life spans) which can also be souvenirs, set in glass frames.
Monkey Forest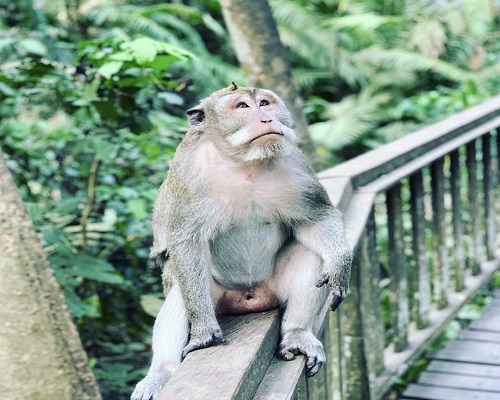 Ubud Monkey Forest also known as Ubud Wanara Wana is a nature reserve temple complex in Ubud and as a place of monkey forest sanctuary. Six visits during the full day ubud tours is to explore the beauty of ubud monkey forest by dwelt by some group of monkeys and other tropical animals. Ubud Monkey Forest itself own very important function of the continuity the monkey habitat in Bali. Meanwhile the Ubud local community own important role to keep this forest naturally in order to all wild animals able to live smoothly. It is important to treat the monkeys with respect as this forest is their home and you are a guest in it.
Uluwatu Temple
Uluwatu Temple is one of Bali's nine key directional temples, though a small temple was claimed to have existed beforehand, the structure was significantly expanded by a Javanese sage, Empu Kuturan in the 11th Century. Another sage from East Java, Dang Hyang Nirartha is credited for constructing the padmasana shrines and is claimed to have attained Moksha.
Include :
Petrol
Parking Fee
Bottle of Natural Water for One Person
Hotel Pick Up : Ubud, Kuta, Denpasar, Legian, Seminyak, Canggu, Jimbaran, Sanur, Padang bay.
Price : 110 USD - 150 USD for 2 Days
Maximum 5 Person If do you have more than 5 Person, Please Contac us on Whatsapp or Email
Note : In addition to the destinations that we provide in the tour , you can also request or custom your travel destinations while in Bali
Booking Form
Contact Us ?

Book Now!
Get Bali Tour Prices at affordable rates. Our company Subawa Bali Driver provide the best facilities for Bali Tour passengers. Enjoy fun travel services from Subawa Bali Driver.