Home » 3 Days Tour » Bali Three Days Tour 6
Bali Three Days Tour 6
About Trip
Destination :
Day 1
Bali Bird Park
Bali Bird Park Tour is a Bali Activities Tour to enjoy experience visiting the best Bird Park in Bali islands with many kinds collection of exotic, beautiful and Fantastic birds from around the wond, especialy from africa. Feel this excitement get closed with Birds from many kind species and make this holiday is memorable one for you and family. Encompassing two hectares of botanical landscape, the park provides sanctuary to almost 1000 birds of 250 different species.
Goa Gajah Temple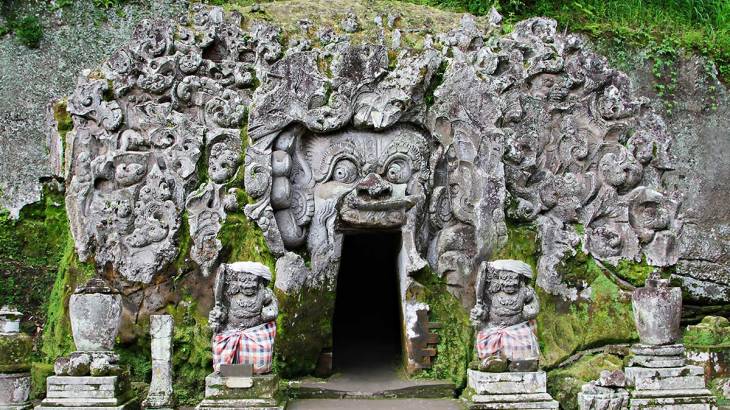 Goa Gajah's name is slightly misleading, lending the impression that it's a gigantic dwelling full of elephants. Nevertheless, Goa Gajah 'Elephant Cave' is an archaeological site of significant historical value that makes it a special place to visit. Located on the cool western edge of Bedulu Village, six kilometres out of central Ubud, you do not need more than an hour to descend to its relic-filled courtyard and view the rock-wall carvings, a central meditational cave, bathing pools and fountains.
Tegenungan Waterfall
Tegenungan Waterfall is one for nature lovers who happen to be staying in Ubud or have neighbouring Sukawati among their tour itineraries. The falls are conveniently located halfway between Ubud and Bali's provincial capital of Denpasar, and is considered the closest natural attraction of its kind that you can reach within only a half-hour transfer southeast from Ubud town. Getting to the falls is a pleasant drive down paved village roads lined with stretches of green rice fields on both sides.
Day 2
Bali Swing
Bali Swing Tour is an adventure activity that we created for those of you who want to enjoy swings on the island of Bali with very beautiful scenery in the forest, really the sensation of a tour that is different from the others. Swing in Bali is an activity that has just been introduced, but because of the enthusiasm of the tourists who want to try this activity making swing activities famous among domestic and foreign tourists. The activity is located in the village of Bongkasa, close to Ubud. And this swing attraction can be combined with several tours to visit tourism objects in Bali.
Taman Ayun Temple
Taman Ayun Temple is easily reached through the main road from Denpasar to Singaraja via Bedugul direction. Taman Ayun Temple is a very beautiful Hindu temple uniquely designed with a distinctive style of Balinese architecture and surrounded by a large of fishpond that looks like floating on the water.
Tanah Lot Temple
Tanah Lot Temple on a rocky island just off the southwest coast of Bali. One of Bali's most sacred sea temples, Tanah Lot is dedicated to the guardian spirits of the sea. The temple itself is said to be guarded from evil by the sea snakes that inhabit the caves below. The temple itself is not accessible to visitors, but magnificent views can be had from a variety of points nearby.
Day 3
Bali ATV Quard Bike
This ATV adventure will take you to the most authentic parts of the islands, through the daily live of the view of the rice field, through the daily live of the community in the most exciting way. Discover places where tradition ways of living stil the same as before.
Gunung Kawi Temple
Gunung Kawi Temple complex, locally known as Pura Gunung Kawi, is one of Bali's most unique archaeological sites, comprising a collection of ancient shrine reliefs carved into the face of a rock cliff. The main site is overlooks the sacred Pakerisan River, which also flows by the Tirta Empul Temple a kilometer up north. Across the river from the ancient reliefs is a temple courtyard featuring old Hindu architecture, which is a contemporary architectural style, which is especially during its 'piodalan' temple anniversaries.
Luwak Coffee Plantation
Coffee Plantation or Bali Agrotourism is coffe farm where you can see varius of coffe planation and see the making of the famous animal coffe or known as a coffe luwak. in this place you can see various of plantation such as coffee arabica, coffee robusta, pineapple, balinesse snake fruit, and etc. expereince to see how to make Balinesse coffee, try the best of balinesse coffe or ginger tea with green view river valley. They sell variety of theirs original Balinese coffee products, herb oil and etc and see the civet cat the most expensive coffee maker, wellknown as Luwak, its produce "Coffee Luwak" and the process of the bean passing through the digestive tract of the civet chemically alters the proteins in the Luwak coffee bean to yield more complex and smooth flavors, not found in conventional coffees.
Include :
Petrol
Parking Fee
Bottle of Natural Water for One Person
Hotel Pick Up : Ubud, Kuta, Denpasar, Legian, Seminyak, Canggu, Jimbaran, Sanur, Padang bay.
Price : 165 USD - 200 USD for 3 Days
Maximum 5 Person If do you have more than 5 Person, Please Contac us on Whatsapp or Email
Note : In addition to the destinations that we provide in the tour , you can also request or custom your travel destinations while in Bali
Booking Form
Contact Us ?

Book Now!
Get Bali Tour Prices at affordable rates. Our company Subawa Bali Driver provide the best facilities for Bali Tour passengers. Enjoy fun travel services from Subawa Bali Driver.