Home » 3 Days Tour » Bali Three Days Tour 3
Bali Three Days Tour 3
About Trip
Destination :
Day 1
Watersport
Bali Water Sports Tour is Bali Activities Tour Package which offer Comprehensive range of marine activities with great challenges, exciting and designed full of fun in Bali islands. It is offers variety of water activities from motorizes until non-motorize one and bring you to unforgettable experience to enjoy fun activities in the beach or in the ocean.
Luwak Coffee Plantation
Coffee Plantation or Bali Agrotourism is coffe farm where you can see varius of coffe planation and see the making of the famous animal coffe or known as a coffe luwak. in this place you can see various of plantation such as coffee arabica, coffee robusta, pineapple, balinesse snake fruit, and etc. expereince to see how to make Balinesse coffee, try the best of balinesse coffe or ginger tea with green view river valley. They sell variety of theirs original Balinese coffee products, herb oil and etc and see the civet cat the most expensive coffee maker, wellknown as Luwak, its produce "Coffee Luwak" and the process of the bean passing through the digestive tract of the civet chemically alters the proteins in the Luwak coffee bean to yield more complex and smooth flavors, not found in conventional coffees.
Kintamani Volcano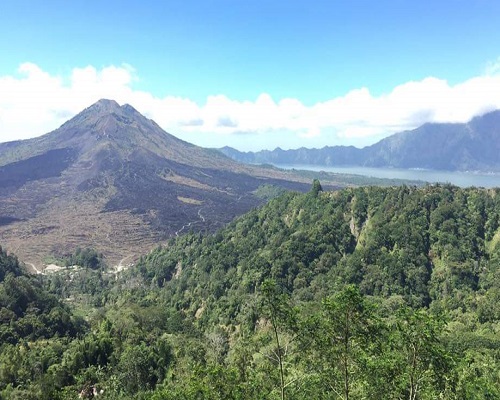 Kintamani Village is the object of mountain tourism is very unique and stunning, with cool air condition in the daytime and cold at night. Kintamani is 1500 meters high, the village of Kintamani his a cool, damp climate suited to growing oranges and passion fruit and on market day, which falls every third day, the main street becomes a bustling chaos of vendors, some of whom have traveled from far away. Tourism Object is located in the area is located in the village of Batur. We can watch stunning natural scenery of Penelokan, a combination of Mount Batur and the expanse of black rock with Lake Batur and on a blue caldera.
Day 2
Bali Swing
Bali Swing Tour is an adventure activity that we created for those of you who want to enjoy swings on the island of Bali with very beautiful scenery in the forest, really the sensation of a tour that is different from the others. Swing in Bali is an activity that has just been introduced, but because of the enthusiasm of the tourists who want to try this activity making swing activities famous among domestic and foreign tourists. The activity is located in the village of Bongkasa, close to Ubud. And this swing attraction can be combined with several tours to visit tourism objects in Bali.
Taman Ayun Temple
Taman Ayun Temple is easily reached through the main road from Denpasar to Singaraja via Bedugul direction. Taman Ayun Temple is a very beautiful Hindu temple uniquely designed with a distinctive style of Balinese architecture and surrounded by a large of fishpond that looks like floating on the water.
Tanah Lot Temple
Tanah Lot Temple on a rocky island just off the southwest coast of Bali. One of Bali's most sacred sea temples, Tanah Lot is dedicated to the guardian spirits of the sea. The temple itself is said to be guarded from evil by the sea snakes that inhabit the caves below. The temple itself is not accessible to visitors, but magnificent views can be had from a variety of points nearby.
Day 3
Bali Rafting
Bali Rafting Tour is a Bali Activities / Adventure Tour Packages to enjoy wide range of white water rafting adventure in the paradise island of Bali.
Monkey Forest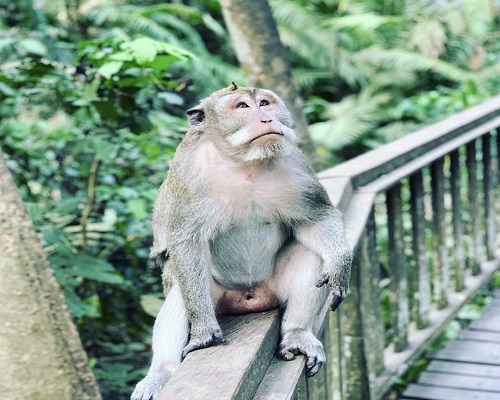 Ubud Monkey Forest also known as Ubud Wanara Wana is a nature reserve temple complex in Ubud and as a place of monkey forest sanctuary. Six visits during the full day ubud tours is to explore the beauty of ubud monkey forest by dwelt by some group of monkeys and other tropical animals. Ubud Monkey Forest itself own very important function of the continuity the monkey habitat in Bali. Meanwhile the Ubud local community own important role to keep this forest naturally in order to all wild animals able to live smoothly. It is important to treat the monkeys with respect as this forest is their home and you are a guest in it.
Ubud Royal Palace
The Ubud Royal Palace is one of the most prominent places in Ubud, as it is smack-dab on the main Jalan Raya Ubud road and intersection. The palace can also be regarded as the focal landmark of Ubud. The Ubud palace was built during the lordship of the late Ida Tjokorda Putu Kandel (1800-1823), and is well-kept by his successive heirs. A visit to the Puri Saren is on many of the itineraries to the Ubud area. It has well-preserved Balinese architecture and charming garden settings, and is best known among lovers of Balinese arts as one of the main sites to view dramatic evening dance performances.
Include :
Petrol
Parking Fee
Bottle of Natural Water for One Person
Hotel Pick Up : Ubud, Kuta, Denpasar, Legian, Seminyak, Canggu, Jimbaran, Sanur, Padang bay.
Price : 165 USD - 200 USD for 3 Days
Maximum 5 Person If do you have more than 5 Person, Please Contac us on Whatsapp or Email
Note : In addition to the destinations that we provide in the tour , you can also request or custom your travel destinations while in Bali
Booking Form
Contact Us ?

Book Now!
Get Bali Tour Prices at affordable rates. Our company Subawa Bali Driver provide the best facilities for Bali Tour passengers. Enjoy fun travel services from Subawa Bali Driver.