Home » Bali Double Activity » Bali Rafting and ATV Quard Bike
Bali Rafting and ATV Quard Bike
About Trip
Destination :
Bali Rafting
Bali Ayung Rafting Is one of the best Bali Rafting Tour in northern part of Ubud with the beautiful and high riverbank. Ripples irrigate the river rock, tracing Bali nature pass the river which is full of fun and pass the attractive and challenging rapids are the impressive Bali Rafting experience on your vacation in Bali. An impressive Bali Rafting experience trace the Ayung River Ubud Bali. Enojoy this rafting adventure during your holiday.
ATV Quard Bike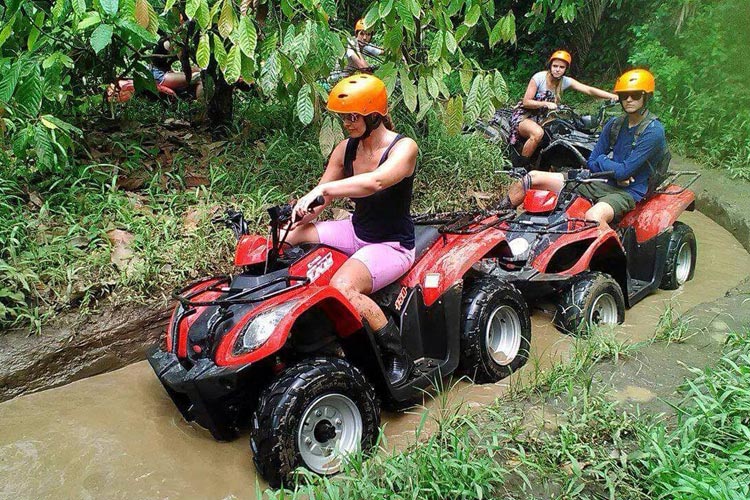 Bali ATV Quard Bike is Bali Activities Tour by offer a high quality of service of fun Bali Tour ATV Riding trips. Our experience Bali ATV Ride instructor will carry out a full safety briefing before riding through the cocoa plantation compound, Balinese villages, crossing back road tracks, rice terrace fields and take in the breathtaking views. If it's more of a challenge that you crave, Bali ATV Ride instructor will guide you through some of the most technical terrain our site has to offer, traverse seemingly impossible slopes, down hill and then use the full power of the bikes to ascend back to the up hill.
Include :
Petrol
Parking Fee
Bottle of Natural Water for One Person
Hotel Pick Up : Ubud, Kuta, Denpasar, Legian, Seminyak, Canggu, Jimbaran, Sanur, Padang bay.
Price : 45 USD - 64 USD
Maximum 5 Person If do you have more than 5 Person, Please Contac us on Whatsapp or Email
Note : In addition to the destinations that we provide in the tour , you can also request or custom your travel destinations while in Bali
Booking Form
Contact Us ?

Book Now!
Get Bali Tour Prices at affordable rates. Our company Subawa Bali Driver provide the best facilities for Bali Tour passengers. Enjoy fun travel services from Subawa Bali Driver.